Workshop site
← Back to workshop series index
Published: 2016 July 25
Last updated: 2016 October 28
My property is just outside of Long View, Washington, USA, about 45 minutes North of Portland, OR; climate zone 4c.
The 3 acre property is on the South side of a small mountain and is accessible via 1000' of private gravel road that comes down from a public road on the mountain's ridge.
Workshop placement on the site is constrained several factors:
It should be easy to travel to/from the residence (especially if workshop carport is my everyday parking)
It should be accessible by truck for material delivery
It should not be placed in a location that's already nice to use as a bare landscape (Pattern #104, Site Repair)
It should have enough solar exposure so that windows allow me to work under daylight and not be too cold in the winter (Pattern #105, South Facing Outdoors; #128, Indoor Sunlight)
I considered the following places (1' contour lines; North is up, gravel road coming down from Northeast):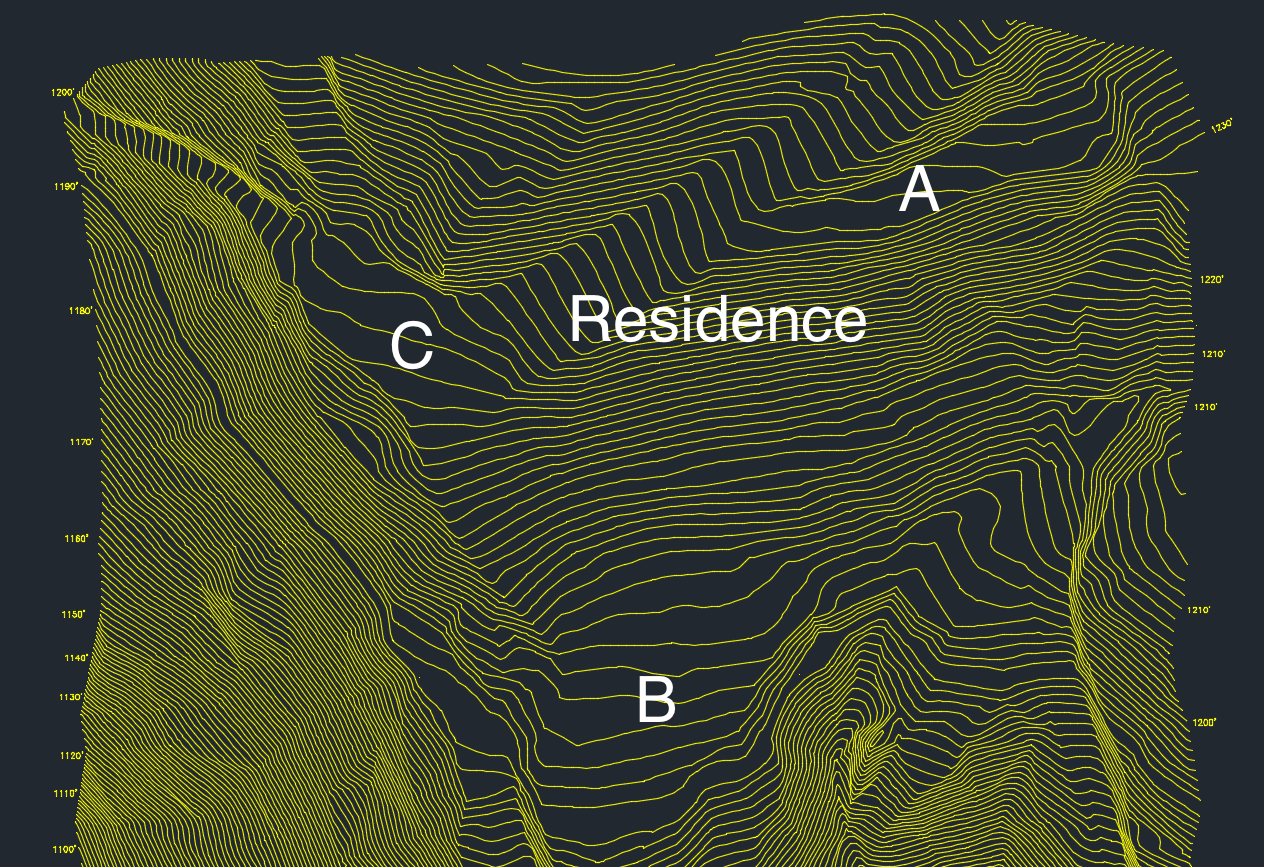 Location A would give a long narrow workshop, perhaps 50' long by 10–15' (Pattern #109, Long Thin House)
Pros:
Only front of structure would be visible; remaining sides and roof materials could be economized
Wellhead at this location, workshop could be used for water pressure tank and other necessary utilities
Deep overhangs on the residence could be used as a covered walkway to workshop. (Pattern #117, Sheltering Roof; #119, Arcades)
Cons:
Limited Southern exposure due to trees, could get dark/cold in winter
Would likely require 3'+ retaining wall to hold up the road and possible issues with close Southern slope (i.e., extra engineering costs)
500 sqft. might get cramped fast
Doesn't fit intimacy gradient of residence (Pattern #127), in which public -> private goes from West -> East; circulation to workshop would require walking along entire residence or disrupting intimacy gradient by adding a backdoor on East side of the residence
Location B is the most roomy, and could easily accommodate a 2500–3000 sqft. workshop
Pros:
Largest available space
Tons of solar exposure on all sides
Circulation fits neatly into residence's Western main entrance (or possible walk-out basement)
Cons:
Would dominate Southern view from residence; roof and Northern siding materials would need to look nice
Would require a few extra truckloads of gravel to extend road, slope may still be tricky in the winter for my 2-wheel drive hatchback
Far from electrical transformer, may have power issues
This location may be the only feasible septic drain field on the property
This location is very nice as-is; would be great for a fire pit / outdoor kitchen
About 25' below residence, which will make for a lot of unpleasant walking when using the shop to support residence construction
Location C, a nook at the corner of the road with room for a 30–40' rectangular workshop
Pros:
Natural location for carport and turnaround
Southern exposure, filtered light from forest to the West
Northern path down to creek for sweet lunch spot
Closest to residence's main Western entrance
Western carport would hide car from view, weather
Only the Southern face and part of the East face will be visible from elsewhere on the site, allowing the remaining sides and roof materials to be economized
Cons:
May require geotechnical engineering to determine standoff from Western slope
May require a North/Northeast retaining wall
Of these three choices, Location C is the most promising. Barring any unforeseen issues with this site (perhaps geotechnical or some kind of ancient burial ground), I'll design the workshop to this location.
August Update
Turned out that there were geotechnical issues with Location C, so the plan now is to cut into the hillside due NE of it. See: revenge of the slope for details.